Main Content
100% Work Guaranteed
Our highly experienced technicians can help you with all your computer needs, from removing spyware from your computer to designing and hosting websites. AUM Computers is the in-house solution for all your computer and marketing needs. Bring in your device including your computer, laptop, phone, or tablet for a free diagnostic or we can come directly to your location. We can fix any computer remotely for your convenience. Schedule an appointment by calling us at (561) 880-5678 today.
Our goal is to exceed our customer's expectations
with quality computer repair solutions that are provided quickly and efficiently. We offer in house technical solutions, quality services, and low prices.
SOME SERVICES WE OFFER
Spyware & Adware Removal Virus Removal Data Backup & Recovery Custom PCs Wireless Networkings Troubleshoot & Repair
Office Relocation & Set-Up Remote Desktop Connections Server Setup & Troubleshooting Shared Internet Office Solutions Computer & Network Security
Corporate Computer Solutions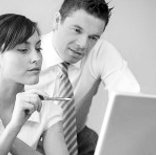 At AUM Computers, we provide professional corporate solutions for businesses across all industries. We offer full network customizations, IT management, email and spam protection, backup and cloud services and more. Our services are affordable and we are fully Microsoft and Comptia certified. Our work is 100% guaranteed or we provide a full refund.
Residential Services
Our computer engineers are fully knowledgeable on the latest techniques and methods to quickly and accurately attend to all of your computer service needs. We can service any computer problem remotely or onsite while guaranteeing 100% customer satisfaction and in business since 2000.